Editor' Note: We'll see more and more of this, not only because it's possible, but also becaue the publishing industry is scrambling madly to find soemthing the advertisers are interested in paying for.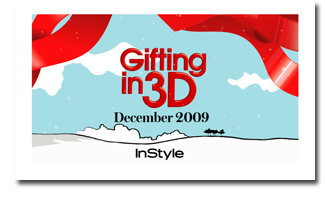 (
Folio
) – Time Inc.'s InStyle magazine is taking the wave of 3-D technology in magazines to the next level. For its December holiday gift guide issue, the magazine is using "augmented reality" technology to make some advertisements three dimensional.
The initiative, called Gifting in 3-D, generates a three dimensional gift box on readers' computer screens when they log online and hold the pages from the promotional section up to their computer's camera. The 3-D gift boxes open to branded video content from each individual advertiser. The initiative also will feature sweepstakes offers and "click-to-buy" functionality.
"Our goal was to create an entertaining, engaging ad program that would drive consumers to the point of purchase," InStyle publisher Connie Anne Phillips told FOLIO:. "It had to be unlike anything anyone had ever seen in publishing."
To pull this off, InStyle partnered with software solutions provider Total Immersion to provide the augmented reality technology. An InStyle spokesperson declined to say how much the initiative cost.
Click Here for the rest of the article.