Editor's Note: This may sound a bit humorous now, but one day your online estate may exceed your material estate in value (both remunerary and personal). How much of your  life is onoline today?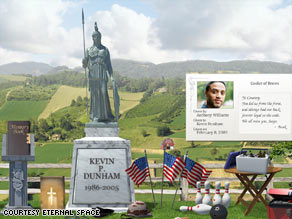 (
CNN.com
) - Your husband, an avid gamer and techie, dies of a heart attack, leaving his vast online life ­-- one you don't know much about ­-- in limbo.
His accounts, to which you don't know the passwords, go idle. His e-mails go unanswered, his online multiplayer games go on without him and bidders on his eBay items don't know why they can't get an answer from the seller.
Web site domains that he has purchased, some of which are now worth hundreds of thousands of dollars,­ will expire, and you may never know.
It's a scenario that's becoming more likely as we spend more of our lives online. And it's raising more questions about what happens to our online lives after we log off for the final time.
The answer, until recently, was nothing.
But now, as online usage increases and social-media sites soar in popularity, more companies are popping up to try and fill that void created in your digital life after death.
Click Here for  the rest of the story.