Editor's Note: We should be doing more stuff like this. If you know of an alternate-energy project in your area, send it to us and we'll publicize it.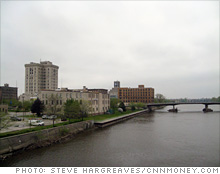 Rife with auto layoffs, Saginaw residents hope a big expansion at the nearby Hemlock solar plant can help jumpstart their battered economy.
SAGINAW, Mich. (CNNMoney.com) -- Outside Saginaw, Mich., an old auto town of 56,000 people about 100 miles northwest of Detroit, a company making silicon for solar panels is doing the exact opposite of the Big Three. It's hiring.
Hemlock Semiconductor is in the midst of a huge $1 billion expansion that'll ultimately add up to 400 new jobs at the sprawling plant which already employs 1,600 people. "People are relying on it," said one Saginaw resident, stopping into a local coffee shop on a quick break from work. "They are the bright spot in this area."
Hemlock, part of a joint venture between the chemical giant Dow (DOW, Fortune 500) and the glass maker Corning (GLW, Fortune 500), has been making silicon wafers in the area since the 1960s, mostly for computer chips.
In 2000, after a shortage of silicon in the solar market, the company decided to begin making it for solar panels.
Now, sales to the solar industry have eclipsed sales to the computer industry and account for nearly all the company's future growth plans.
Click Here for the rest of the story.